Tire Tread

You should keep in mind three things when figuring out if your vehicle requires new tires : tread age, vulnerability to the elements, and tire wear. Let the team here at Norristown Chrysler Dodge Jeep Ram help you determine if you need a new set of tires.
Tire Age
How long have you had your tires? Regardless of tread wear, vehicle manufacturers say that you should replace your tires every 50,000 to 60,000 miles. Make sure you examine the manufacturer's recommendations on your tires specifically.
Why Should I Worry About Tire Tread?
The most pressing reason to worry about tread wear is your own safety. When your tire tread is worn, your car may react inadequately in poor weather conditions like rain and snow. With proper tire tread, your car will grip the road well. Don't forget that insufficient tread is illegal in several states. And lastly, worn out tread can make other parts of your car wear out earlier than they should.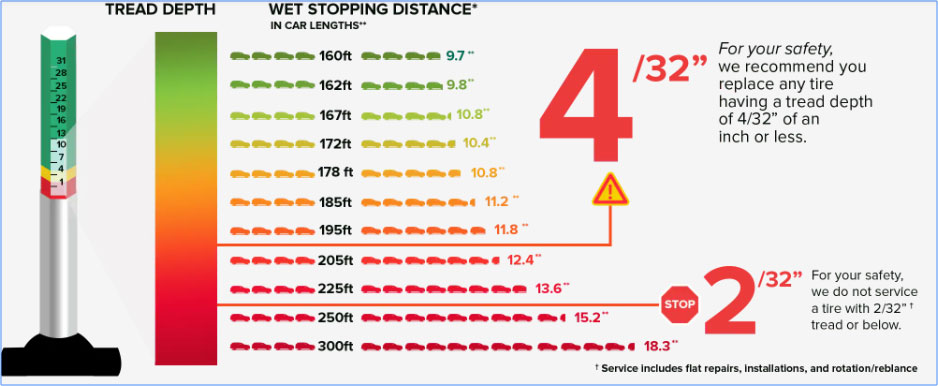 Exposure to the Elements
Being exposed to heat and ultraviolet sun rays could cause structural damage to your tires. These changes are typically a non-issue in moderate climates.
Tread Wear
With this easy test, a single penny can bring you peace of mind when it comes to your tire tread. Put a penny head first into several tread grooves of your tires. If you can spot the top of Lincoln's head, then it is apparent that your treads are shallow and worn out. If this is the case, your tires need should be renewed. If a portion of Lincoln's head is covered up by the tread across the entire tire, then you have over 2/32 of an inch of tread depth remaining. This indicates that you probably don't need new tires.

I Need New Tires
When it's time to change your tires, the staff at the Norristown Chrysler Dodge Jeep Ram service department wants to make purchasing a new set easy. We have a fantastic selection of high-quality tires to fit your vehicle in addition to your budget. From economy to high-performance tires, the Norristown Chrysler Dodge Jeep Ram service department brings you the tires with the dimensions you demand from brands you trust.